Choose the Best Dumpster Rental Burleson Has to Offer with Wannco Services!
For the #1 dumpster rental Burleson residents, contractors, and businesses trust, choose Wannco Services! Whether you're embarking on an exciting DIY home remodeling project or managing a large-scale commercial demolition site, we have no doubt our versatile and heavy-duty container selections will help you get the job done right the first time by providing a safe and efficient method for disposing of unwanted waste. 
We're proud to offer our services in Burleson, Texas, and the surrounding areas of Johnson County. As a locally owned small business, we understand the importance of working with communicative, trustworthy, and friendly folks who share the same values of sustainability, community support, and helpful service, which is why we work diligently to ensure each and every customer has a positive, memorable experience when booking the dumpster rental Burleson can depend on from our team. 
Reserving a roll-off container for your upcoming project should be the least stressful part of the waste removal process, so we offer seamless and streamlined booking with our online scheduling system for the convenience and benefit of our customers. When you're ready to take the next step and schedule the best dumpster rental Burleson can provide, our team is available to answer any questions you may have, or you can browse our options and book directly online in a matter of minutes. Expect the best with our knowledgeable and personable crew, and let us handle the heavy lifting of your waste removal project.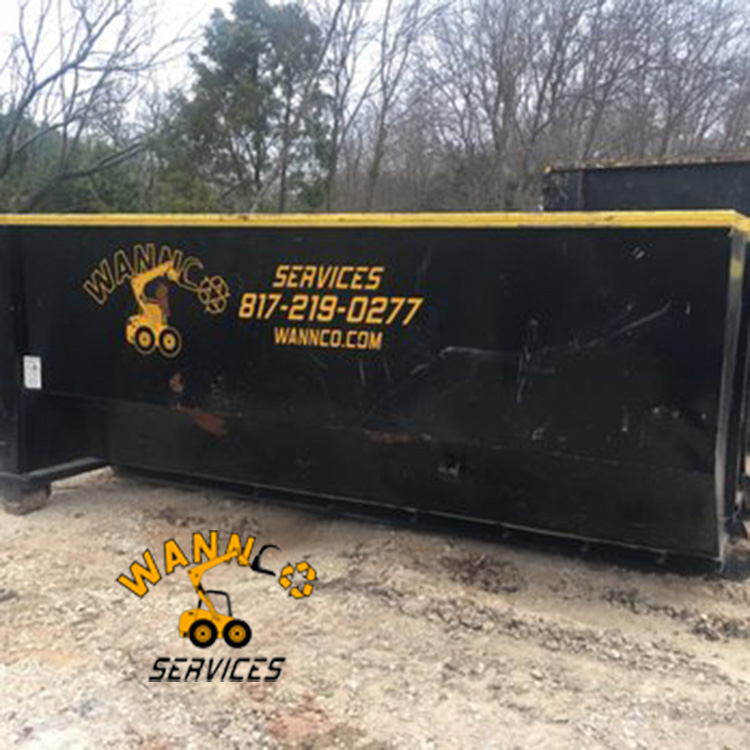 Book the Dumpster Rental Burleson TX Contractors and Homeowners Use for a Variety of Projects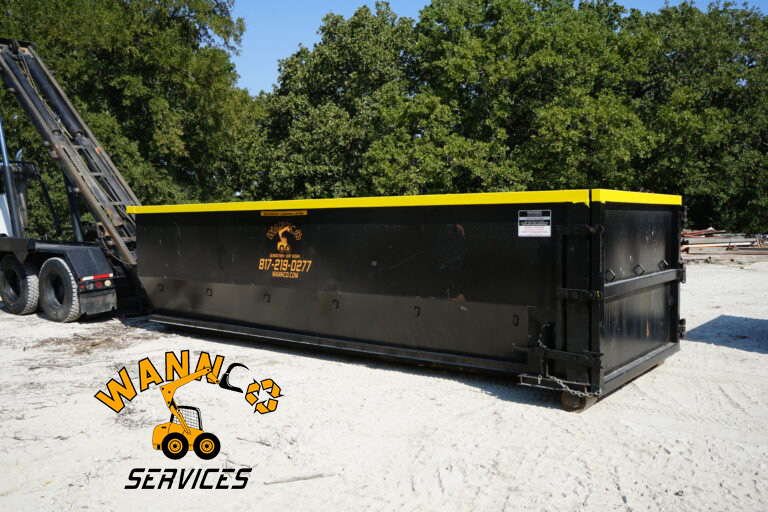 There are countless reasons to use the dumpster rental Burleson TX counts on to meet the needs of residential and commercial waste disposal projects. Whether you're decluttering the garage in preparation for a sale or planning a large-scale commercial roof replacement, our durable, industry-grade roll-off containers offer convenient, safe, and efficient waste disposal methods to help you save time and energy. Just load up the container, give us a call, and we'll remove the waste in no time.
We partner directly with the Cleburne Trash Disposal Facility to ensure all waste is disposed of in a sustainable and safe manner in accordance with all city, county, and state regulations. We prioritize efficiency and responsibility in every aspect of our small business for the safety and continued success of our amazing customers. 
We regularly supply options for a roll off dumpster rental Burleson TX homeowners, property managers, businesses, and contractors can depend on to help support a range of project goals on both a short and long-term basis. We're confident we have the solution to guarantee your work site stays waste-free and on the right track. Take a look at some of the most popular reasons for booking a dumpster rental Burleson TX can trust below and get in touch with our team if you need additional information. We're here to help and ensure the rental process is as smooth and hassle-free as possible. 
Reliable Roll Off Dumpster Rental Burleson Contractors Depend On
We offer a range of sizes for our roll off dumpster rental Burleson contractors use for development, demolition, and general construction projects year-round. As an all-inclusive waste removal and demolition service provider, we understand what it takes to keep job sites safe, streamlined, and on schedule. When you reserve the roll off services Burleson can depend on from our team, you're partnering with a company that has an intricate understanding of the specific needs of construction sites. 
We offer heavy-duty roll off dumpsters Burleson Texas construction professionals utilize to meet a range of waste hauling requirements and our bins are equipped to transport dirt, concrete, brick, drywall, lumber, shingles, and general waste. For more information about booking a container or more information about ​​Burleson roll off dumpster permits, our team is available and happy to help. 
Roll Off Dumpster Burleson Roofers Use To Get the Job Done
Use the roll off dumpster Burleson roofers depend on to help keep work sites safe and free of waste for the duration of a job. Our substantial bins are equipped to contain and carry away a broad scope of roofing waste including shingles, tile, wood, flashing, trim, gravel, and other materials. 
We offer four sizes for the best roll off dumpster Burleson TX has to offer and regularly work with construction professionals to help support roofing repair or replacement projects for both residential and commercial settings. Get in touch with our team to learn more about our rental policies and procedures or book directly online to get started today!
Commercial Dumpster Service Burleson Business Owners Trust
For the dumpster service Burleson business owners use for short and long-term goals, choose the dependable and dedicated team at Wannco Services. We regularly partner with residential living facilities, office parks, and other commercial entities to provide cost-effective and convenient waste disposal options that suit a variety of needs.
Whether you're managing a large-scale foreclosure cleanout, planning an addition for an office building, or are interested in ongoing waste management support for an industrial setting, we're certain our selections for a trash dumpster rental Burleson can count on will make a beneficial addition to your single-use or long-term needs. Our experience working with warehouses, retail stores, restaurants, banks, and other businesses have provided us with a wealth of knowledge to best serve your commercial needs. Get in touch with our team to learn more about our business dumpster drop off Burleson counts on year-round.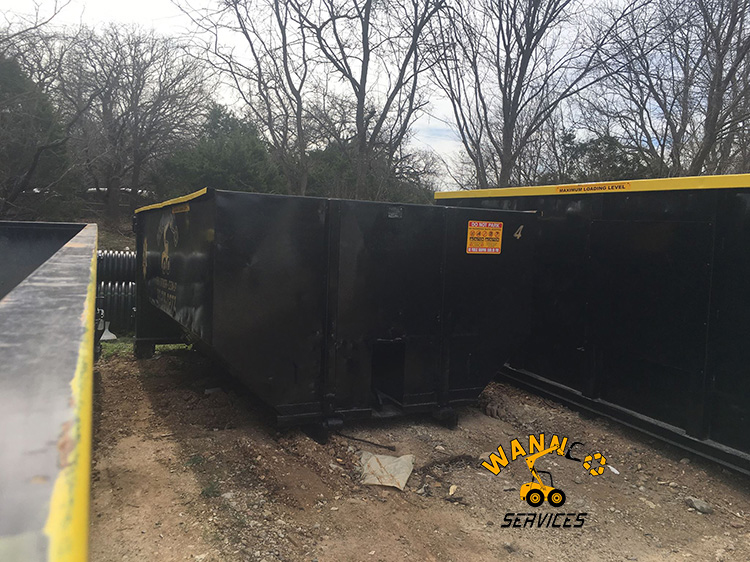 Residential Dumpster Rental in Burleson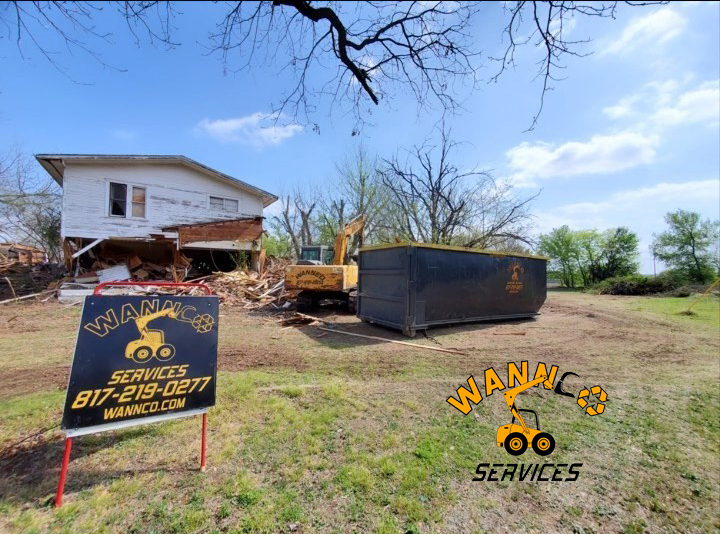 If you're searching for a reasonably-priced dumper rental in Burleson to help support cleanout, repair, or renovation projects on your property, look no further than the versatile and high-quality selections from our team at Wannco Services. We regularly work with property managers and homeowners to provide an efficient and safe avenue for loading and hauling away waste in one fell swoop.
There's no shortage of useful reasons for booking a dumpster in Burleson TX, but a few of the most frequent residential uses include garage, attic, or basement cleanouts, landscaping, roofing repairs, downsizing, estate sale preparation, hoarding cleanouts, appliance or furniture removal, single-room renovations, flooring removal, and shed or driveway demolition. Get in touch with our experts for more information about which bin will be the best fit for your upcoming project! 
Why Choose Us for Your Burleson Dumpster Rental
With years of experience and a consistent 5-star rating on Google, we're confident we can provide the ultimate Burleson dumpster rental options to help reach your goals in a timely, convenient, and economical fashion. We're a fully licensed and insured family-owned business that prioritizes clear payment terms, expedited service, and on-time delivery. Our mission is to take the stress out of the waste disposal process so our customers can focus on more important things.
We partner directly with industry-leading U.S.-based manufacturers to provide options for a top-quality dumpster rental Burleson Texas utilizes to meet a range of commercial or residential objectives. We deeply sanitize and inspect each bin before and after rentals to ensure our customers are receiving the best products possible. Our professional, respectful, and friendly staff go above and beyond to exceed expectations by helping our customers through each step of the Burleson dumpster rental process. No project is too big or small for our team and we're accustomed to helping customers tailor rentals to fit their specific project needs. We care about the overall success and outcome of your home improvement, development, or demolition project just as much as you do. Whether you're wondering what the Burleson one time dumpster rental cost is for a quick waste disposal project or need ongoing support, the Wannco Services team is here to serve you. Get in touch with us or book online today!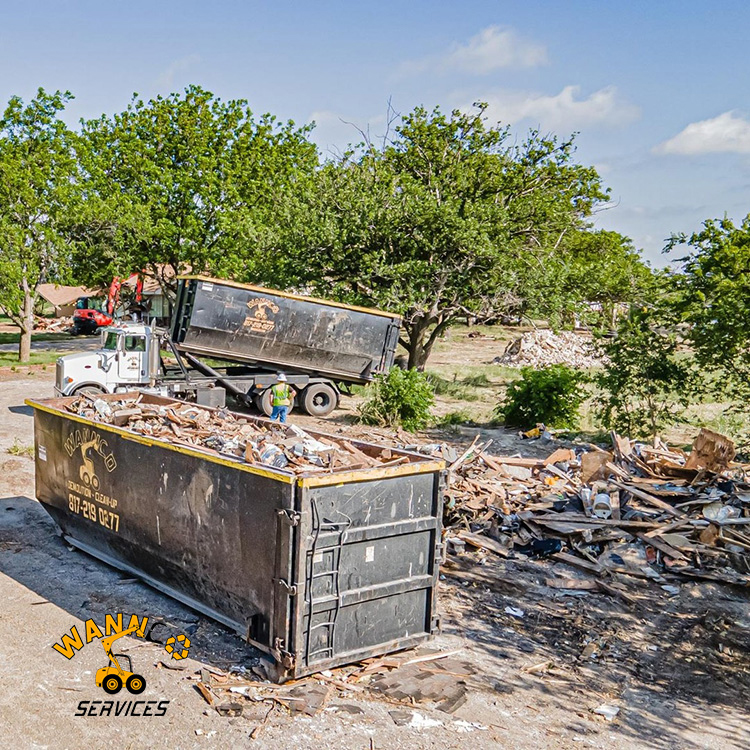 How to Rent a Dumpster Burleson Can Trust
We make it as simple and streamlined as possible to rent a dumpster Burleson can depend on to help reach a variety of residential and commercial goals. Reserve a roll-off container by giving our team a call at (817) 219-0914 or with our user-friendly online scheduling tool. 
When you're ready to rent a dumpster in Burleson online, follow the steps below and let us know if you have any questions along the way:
From any page of the website, click the "Dumpster Rental" button located on the top announcement bar.

View a high-level overview of our available dumpster sizes including dimensions, rental time, tonnage, and any additional fees. Once you've decided on the best size for your project, click the yellow "Book Now" button next to the price. 

Review the details of that particular container size including the price of dumpster rental in Burleson TX before clicking the yellow "Add to Cart" button. 

Select the service type (residential or commercial) then click the yellow "Continue" button.

Choose the best drop-off and pick-up dates for the dumpster rental in Dallas-Burleson, then click the "Continue Shopping" button to add more containers to your cart or click the "Checkout" button to begin reserving the bin.

When checking out, input billing, contact, and delivery information before signing the digital contract. Please include any special delivery instructions for our team of professional drivers to be aware of.

Submit payment using any major credit card.
Once payment has been processed, expect a confirmation email from our team with a digital copy of the receipt and signed contract of the agreed-upon dumpster service Burleson Texas can trust. One of our team members will be in touch leading up to the drop-off date to confirm a delivery window that works best for your schedule. If you have any questions or would prefer to speak directly with our staff to rent a dumpster Burleson uses for all projects, give us a call at (817) 219-0914. 
The Best Dumpster Price Burleson Can Provide
We carry four convenient sizes and the most reasonable dumpster price Burleson has to offer. Browse our sizes and selections below, and get in touch with our team with any questions about reserving dumpsters Burleson TX uses to complete a wide range of projects.
15-Yard: Our smallest container measures 12' long by 8' wide by 5' high and begins at $350 for up to seven days of rental time with two tons of waste disposal included in the base price. This size is ideal for smaller commercial sites, single-room remodels, housing cleanouts, and other residential projects. 
20-Yard: Measuring 20' long by 8' wide by 4' high and beginning at $450, this rental includes up to 14 days of rental time and three tons of waste disposal in the base price. We think this is the most competitive dumpster price Burleson can provide and is suitable for meeting a wide range of project goals for both commercial and residential job sites. This bin is suitable for hauling wood, rock, brick, concrete, dirt, and other bulky materials. 
30-Yard: This container measures 22' long by 8' wide by 6' high and begins at $600 for up to 14 days of rental time with four tons of waste included in the base price. This option is ideal for larger-scale projects including construction sites, housing developments, demolitions, or commercial roof replacements, among other ventures. If being used to haul dirt, rock, brick, or concrete, the containers can only be filled to one-third capacity. If you're seeking heavy-duty dumpster rentals Burleson can depend on, our 30-yard is an excellent contender.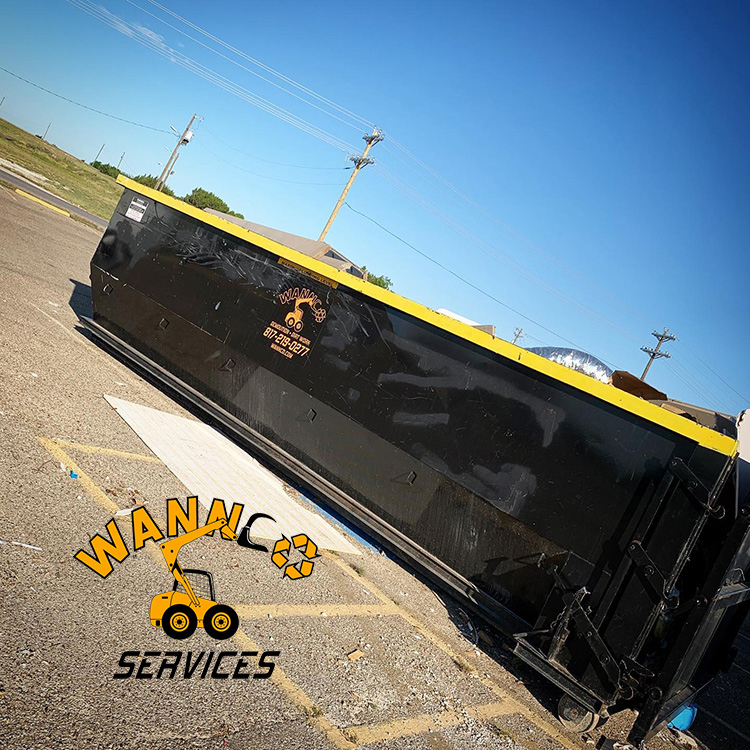 40-Yard: Our largest container selection measures 22' long by 8.5' wide by 6.5' high and rents for $775, which includes seven full days of rental time and five tons of waste disposal in the base price. This rental is ideal for construction and demolition sites. The 40-yard construction dumpster rental Burleson contractors trust is not suitable for dirt, rock, brick, or concrete. The high walls require heavy equipment to be used to load this container. 
Additional days and extra weight are available for purchase at $25 per day up to 30 days and $100 per ton. We're confident we carry the most beneficial dumpster Burleson contractors, homeowners, and businesses can depend on to reach any and every waste disposal project goal with ease. If you'd like to learn more about the price of dumpster service in Burleson TX for your specific needs, don't hesitate to get in touch with our staff today or book one of our containers online with a few simple clicks! 
Burleson Dumpster Frequently Asked Questions
If you have questions about choosing the best Burleson dumpster for your project needs, you're in the right place. We've compiled a selection of frequently asked questions for customers to peruse at their convenience and our team is available to provide any further information via phone or email.
How much does it cost to rent a roll-off container?
Our prices vary depending on the size of the bin, the rental period, and the amount of waste being disposed of. Our 15-yard container begins at $350 for up to seven days of rental time with two tons of waste disposal included in the base price. We understand people might be searching for a cheap dumpster rental Burleson can rely on, but along with cost-effective solutions, we prioritize friendly customer support and on-time delivery for a positive rental experience from start to finish. 
Can I move the dumpster once it's been delivered?
If the dumpster needs to be moved once delivered, please contact our team to arrange that. For your safety and the longevity of our containers, please do not move the rental once it's been placed by our professional and experienced drivers. We do our best to confirm the ideal location for Burleson dumpster placement before delivery to avoid the need for moving the container and, thus, any additional fees. 
Can I haul brick, concrete, rock, or dirt in your containers?
Unfortunately no, brick, concrete and dirt are not allowed in our containers. However, for those types of material our team can haul it for you separately. If you're interested in learning more about how our city of Burleson dumpster rental options can haul away large quantities of waste, contact our team for more information.
Delivering High-Quality Options for a Burleson Roll Off Dumpster Rental
We're proud to offer our Burleson roll off dumpster rental options to a broad range of Johnson County including the 76028, 76058, and 76097 zip codes. Our delivery areas extend into the nearby communities of Fort Worth, Crowley, Cleburne, Joshua, Godley, and Granbury, among other cities. If you don't see your zip code or town listed, feel free to give us a call to see if we can accommodate your need for dumpsters in Burleson. 
We regularly partner with local businesses, community organizations, and even the Burleson Independent School District to ensure our communities remain waste-free and enjoyable places to visit and live in. It's our goal to provide invaluable services at reasonable prices so that residents, business owners, and individuals can reclaim their space, complete a range of projects, and clear the waste with ease. Get in touch with our team to learn more about our Burleson roll off dumpster rental selections and how they can benefit your project goals today by giving us a call or submitting the inquiry form on our contact page.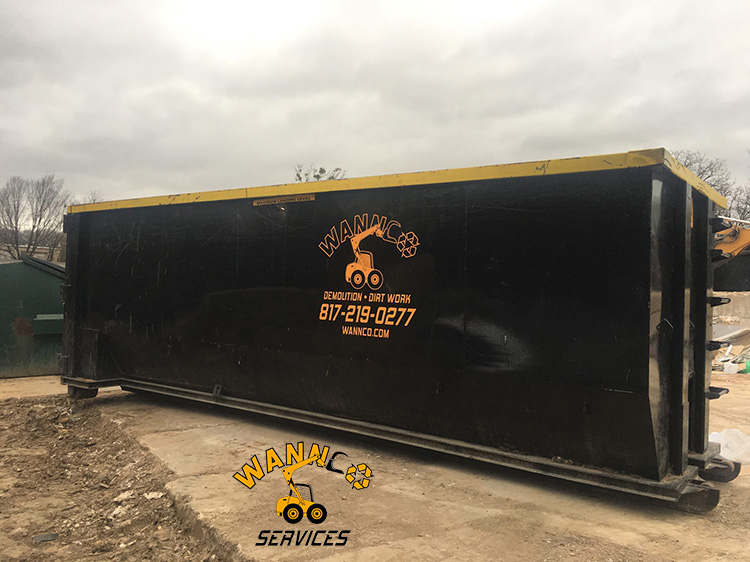 5-Star Reviews for Our Burleson Dumpsters
We're thrilled to have earned dozens of positive reviews by providing top-quality Burleson dumpsters to homeowners, contractors, property managers, and businesses in the area. Whether you're beginning a residential cleanup project or navigating an ongoing commercial development, we're confident we have the tools and services that will help keep your project on track and free of bulky, unwanted waste. 
Our durable and versatile options for Burleson dumpster rentals have helped us garner a reliable and friendly reputation across Johnson County, along with unparalleled customer service and competitive pricing. Take a look at what a few of our previous clients have to say about our exceptional waste disposal services below and book a roll-off container online in a matter of minutes!
"Excellent response times, easy to communicate with, they showed up when they said they would and their quality of work and service was great from the first phone call through the end our project. We will definitely use Wannco again and highly recommend them to anyone in need of excavation services. Top notch!"
"Awesome company to work with. Crew was very friendly and professional."
"Wannco staff were professional and easy to communicate with. Prompt, dligent and kept the work site clean. I have used them for multiple services and have been extremely pleased with their performance! I would highly recommend them for any demolition, landscaping and roll-off dumpster needs!"